If Ebola Spreads to Canada
While reading the news about the public health agency of Canada taking all possible steps to prevent the spread of Ebola to Canada, with a glass of Ontario wine in my hands, I for a brief moment thought, what if ………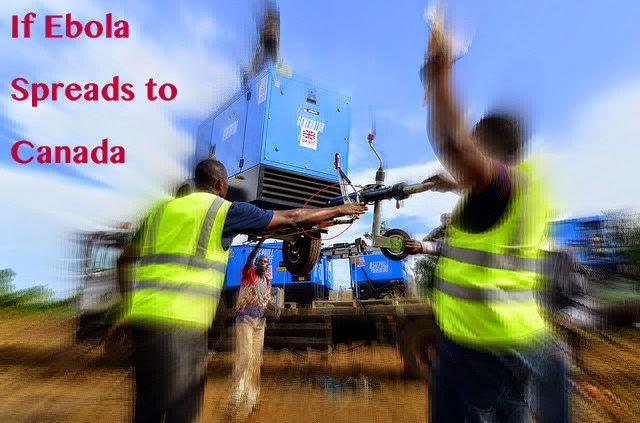 Picture credit DFID @ Flikr (Image altered and text added) – If Ebola spreads to Canada
So let me set the context right. I am not an infectious disease expert, though my post on cutaneous signs of Ebola virus infection got more attention that it deserved. I am not an epidemiologist either to comment authoritatively on what healthmap is doing. To me it is the social media version of what John Snow did two centuries back to identify the epicentre of the cholera outbreak and established epidemiology as a speciality.
So if Ebola spreads to Canada, How do we identify the epicentre and take preventive measures? Turn to healthmaps and see where it originated and take measures to contain? Healthmaps will get that information from Google news and similar services. We have half a dozen major Health Information Exchange (HIE) initiatives in the country and would probably have accurate records of where each case presented with the characteristic symptoms. But we would look up to healthmaps and google since we cannot use HIE data for research!
i wonder how long it wil take for #ebola to hit #canada? which city first? and wil it get #outofcontrol? #crazy :headshaking:
— 411inToronto (@411inToronto) October 10, 2014
I am not a health policy expert neither am I an HIE architecture expert. But to me, if we have to realize the benefits of the ever increasing number of HIE initiatives, we have to find a way to use the wealth of the information there for population health. If we get it right, privacy is not even a concern.
HIE, built to abolish silos, paradoxically created larger silos, because of fragmented systems. The utopian population health requires a glue to bring these silos together. We got it wrong the first time, with data-centric HIS that offered little clinical workflow support and were (inadvertently) rejected by doctors. (We always have the doctors to blame as the universal slow technology adopters. BTW India's mission to Mars discovered that all doctors in the planet originated from Mars!). We are sure to get it wrong again if we don't change the data-centric HIE models.
HIE should be versatile, structureless and scalable enough to support disparate clinical use cases. The only option that comes to my mind is RDF.