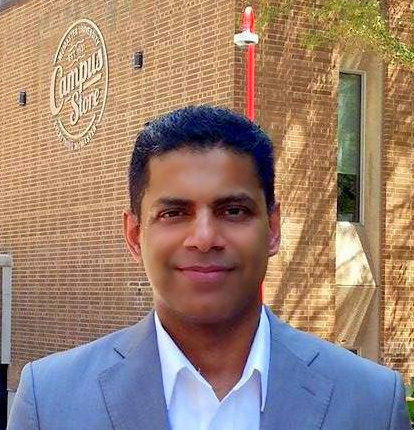 Bell Eapen MD, PhD.
Contact Me | LinkedIn | Twitter | GitHub
Bellraj (Bell) Eapen is a techie MD (dermatologist) with a PhD in Information Systems from McMaster University. He is a proponent of Machine Learning and Artificial Intelligence applications on the cloud. As an enterprise architect at Mayo clinic, he specializes in cloud architecture for NLP, conversational AI, and multimodal ML. He is proficient in open-source software development and maintains several software libraries on GitHub. He actively supports OSCAR and OpenMRS EMR platforms and advocates FHIR, big data and blockchain adoption in healthcare. His research interests include Clinical Decision Support Systems (CDSS), Bioinformatics, Computational Biology, Cutaneous Imaging, mHealth and Public Health Informatics. He has several peer-reviewed publications.
Dr. Eapen graduated in Medicine from St. Johns Medical College, Bangalore and completed his post-graduation in Dermatology from Kasturba Medical College, Manipal. He also has a diploma in dermatology from The Royal College of Physicians and Surgeons of Glasgow(UK). Having taught clinical and cosmetic dermatology in India for a few years, he moved to the UAE, where he worked in reputed hospitals in Dubai, Abu Dhabi, and Sharjah for almost a decade. He is an avid healthcare blogger with several popular blogs in dermatology and eHealth. He is the founder of Dermatologists Sans Borders, one of the largest social media groups for skincare experts, and is an expert in health research dissemination through social media.
GitHub: https://github.com/dermatologist
eHealth BLOG: http://nuchange.ca | http://canehealth.com
Dermatology BLOG: https://dermatologist.co.in
Machine-learning projects: https://gulfdoctor.net | https://skinhelpdesk.com
SOFTWARE LIBRARIES I MAINTAIN:
Python (PyPI): QRMine, pyomop, FHIRy, dadpy
JavaScript (npm): FHIRFormJS, UMLSjs 
Java (maven): ckblib 
.Net (NuGet): omopcdmlib
OpenMRS EMR: openmrs-module-dermimage, openmrs-module-nuform
Publications: [Publons]
Eapen BR, Baba V, Sohail M. Evidence-based management: A design theory, template, and technology for a knowledge delivery platform. (In Print (2023): Metamorphosis – A Journal of Management Research)
Eapen, B.R., Kaliyadan, F. & Ashique, K.T. DICODerma: A Practical Approach for Metadata Management of Images in Dermatology. J Digit Imaging (2022). [Full Text] [Repo]
Eapen BR. Artificial intelligence in dermatology: A practical introduction to a paradigm shift. Indian Dermatol Online J 2020;11:881-9 [Full Text]
Eapen, B. R., Sartipi, K., & Archer, N. (2020). Serverless on FHIR: Deploying machine learning models for healthcare on the cloud. arXiv preprint arXiv:2006.04748. [Full Text]
Eapen BR, Archer N, Sartipi K. (2020). QRMine: A python package for triangulation in Grounded Theory, arXiv:2003.13519 [cs.CL]. [Full text]
Eapen, B. R., Archer, N., & Sartipi, K. (2020). LesionMap: A Method and Tool for the Semantic Annotation of Dermatological Lesions for Documentation and Machine Learning. JMIR Dermatology, 3(1), e18149. [Full text]
Eapen BR, Archer N, Sartipi K. (2020) Public Health Information Systems: From Data to Knowledge. PrePrint.[Full Text]
Eapen BR, Archer N, Sartipi K, and Yuan Y. (2019) Drishti: a sense-plan-act extension to open mHealth framework using FHIR. In Proceedings of the 1st International Workshop on Software Engineering for Healthcare (SEH '19). IEEE Press, Piscataway, NJ, USA, 49-52. DOI: https://doi.org/10.1109/SEH.2019.00016 [Full Text | Repo]
Eapen BR, Costa A, Archer N, Sartipi K. (2019) FHIRForm: An Open-Source Framework for the Management of Electronic Forms in Healthcare. Stud Health Technol Inform. 2019;257:80-85. [Pubmed | Full Text | Repo]
Sáenz, J. P., Novoa, M. P., Correal, D., & Eapen, B. R. (2018). On Using a Mobile Application to Support Teledermatology: A Case Study in an Underprivileged Area in Colombia. International journal of telemedicine and applications, 2018.
Osman, O. T., Souid, A. K., Al-Mugaddam, F., Eapen, B. R., & Jafferany, M. (2017). Attentiveness of Dermatologists in the Middle East to Psychocutaneous Medicine. The primary care companion for CNS disorders, 19(2).
Sáenz, J. P., Novoa, M. P., Correal, D., & Eapen, B. R. (2016, November). Skinhealth, A Mobile Application for Supporting Teledermatology: A Case Study in a Rural Area in Colombia. In International Conference on Wireless Mobile Communication and Healthcare (pp. 160-163). Springer, Cham.
Eapen BR, Chapman B. Mobile Access to ClinicalConnect: A User Feedback Survey on Usability, Productivity, and Quality; JMIR mHealth uHealth 2015;3(2):e35 [Full Text]
Eapen BR. A new insight into the pathogenesis of Reiter's syndrome using bioinformatics tools.International Journal of Dermatology March-2003. 42 (3); 242-243. [Pubmed Citation][Abstract]
Eapen BR. Molecular biology of Botulinum Toxin Serotype A (BoNT/A): A Cosmetic perspective. Journal of cosmetic dermatology (2008). 7 ; 221-225 [Pubmed]
Eapen BR. ONTODerm – A domain ontology for dermatology. Dermatology Online Journal 14 (6): 16 [Full Text] [Pubmed] [Project Home Page]
Eapen BR. Photosensitivity in Smith-Lemli-Opitz syndrome: A flux balance analysis of altered metabolism. Bioinformation 2 (2):78-82 (2007) [Full Text] [Pubmed] [Details]
Eapen BR. Schwann cell invasion by M. leprae: the probable trojan horse. Lepr Rev. 2008 Sep;79(3):335-7. [Full Text | Pubmed | Journal Website]
Eapen BR. Myeloid differentiation factor 88 (MyD88): An innocent bystander or an active player – Pathway level analysis of expression data in psoriasis. Journal of Investigative Dermatology (Suppl). 2008; 128: S132 [Abstract – #787 [pdf]]
Eapen BR. Malignancy in dermatomyositis: A Bayesian Belief Network approach. Indian J Dermatol Venereol Leprol 2007;73:445-5 [Full Text] [Details]
Bell Raj Eapen. M. Leprae genome revisited using the latest bioinformatics tools. (Gulf Journal Of Dermatology & Venereology – April 2002 issue)
Sandra A, Eapen BR, Shenoi SD. Effect of thickness of sunscreen on SPF. British Journal of Dermatology (Suppl). 2000; 143 (57): 24 [Citation]
Eapen BR. Structural analysis of Staphylococcal enterotoxin G (SEG) and its inactive mutant (SEGL29P) using the bioinformatics tools. Biomedicine. 2002; 22: 89-93. [Citation]
Eapen BR. Vit1 gene in Vitiligo – Letter to Ed. Indian J Dermatol Venerol Leprol. 2004;70:184.[Full Text] [Pubmed]
Eapen BR. Neural network algorithm to predict the severity of Epidermolysis Bullosa Simplex. Indian J Dermatol Venerol Leprol. 2005;71:106-8. [Full Text] [Pubmed]
Bell Raj Eapen, Murali Srinivasan, Geetanjali Bhas. Antibiotic sensitivity profile of common bacterial pathogens in Dubai – A study of 107 cases. MEJFM 2005; 3(4): 28 – 32 [Full Text]
Bell Raj Eapen. Bioinformatics – A Clinician's perspective. Bioinformatics – India Apr-jun(2003). 1 (1); 17-18. [Abstract]
Bell Raj Eapen, Shrutakirthi D Shenoi, Sandra A. Patch Testing with Shoe series in suspected cases of footwear dermatitis. Indian J Dermatol 2001; 46(3): 146-148
Bell Raj Eapen, T Salim, S D Shenoi. Clinical Presentation and treatment outcome in Systemic Lupus Erythematosus. (Vol 47 No 3 July – September 2002, Indian Journal of Dermatology).
Bell Raj Eapen, Shobana S, Anandan S. Waist dermatoses in Indian women wearing saree Indian J Dermatol Venerol Leprol. 2003;69:88-89. [FULL TEXT][Pubmed]
R Sudha, SB Hussain, E Bellraj et al. Clinico Pathological study of Exfoliative Dermatitis. Indian J Dermatol Venerol Leprol. 2003;69:30-31.
Murali Srinivasan, Bell Raj Eapen, Geetanjali Bhas, Cyril Kumar T. Efficacy of Chlorhexidine Mouthwash as an Oral Antiseptic – An Invivo Study on 20 Patients. MEJFM 2005; 3(4): 28 – 32 [Full Text]
Eapen BR. Data sharing using internet: A suggestion – Letter to Ed. Indian J Dermatol Venerol Leprol. 2003;69:194.[FULL TEXT][Pubmed]
Eapen BR. EndNote 7.0. Indian J Dermatol Venerol Leprol. 2006;72(2):165-6. [Full Text] [Pubmed]
Eapen BR. Blog your clinical photos. Letter to Ed.  Indian J Dermatol Venerol Leprol. 2006;72(3):231. [Full Text] [Pubmed]
Bell Raj Eapen. Informatics in Clinical Practice Monitoring and Strategic Planning. MEJFM 2006; 4(5): 72 – 76 [Full Text]
Eapen BR. Collaborative writing: Tools and tips. Indian J Dermatol Venereol Leprol 2007;73:439-41 [Full Text] [Pubmed]
Eapen BR. Vitiligo, psoriasis and imiquimod: Fitting all into the same pathway. Indian J Dermatol Venereol Leprol. 2008 Mar-Apr;74(2):169. [Full Text] [Pubmed] [Author's reply]
Eapen BR. ErbB2: Nonimmune genetic key to leprosy. Indian J Dermatol Venereol Leprol. 2008 May-Jun;74(3):272-73. [Full Text] [Pubmed]
Eapen BR. DermaMan: Scoring dermatology in your palm. Indian J Dermatol Venereol Leprol. 2008 Jul-Aug;74(4):424-6. [Full Text | Pubmed | Details]
BR Eapen. (2009): Delayed-Type hypersensitivity to latex: Computational prediction of MHC class II. precedings.nature.com [Full Text]
Eapen BR. Agent-based model of laser hair removal: A treatment optimization and patient education tool. Indian J Dermatol Venereol Leprol. 2009 July-Aug;75(4):383-87. [Full Text] [Pubmed] [Model Home Page]
Eapen BR (2009): Research in Cosmetic Dermatology: Reconciling medicine with business. Munich Personal RePEc Archive [Full Text]
Eapen BR. What if your dissertation aims fail?. Indian J Dermatol Venereol Leprol. 2010 Jan-Feb;76(1):80-2. [Full Text] [Pubmed]